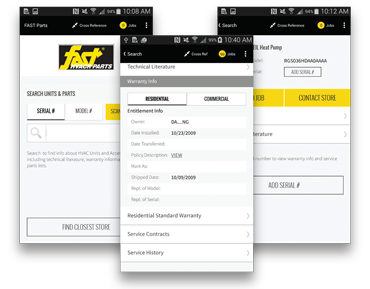 Check out the new FAST
®
Mobile Tech App.
We've updated and improved it to help you work
even faster. And it's free, like always.
Here's what you'll find:
Easier to use.
We've rebuilt the app on a more robust platform
with a new look and feel to make it easier for you
to find the parts information you need to get
your job done.
Important new tools.
Enter a product serial number or scan a product barcode, and the new app gives you access to important new information:
• Warranty Lookup – Verify warranty entitlement status.
• Service History – Check maintenance records.
• Technical Literature – Download spec sheets, installation manuals and more.

Improved the Original Tools.
We've also enhanced the tools in the original FAST Mobile Tech app, including:
• Equipment BOM Search
• Cross Reference Tool
• Store Locator